KBUU Newswire Monday 11/13: 10 Freeway Closure Beginning To Impact Malibu – Z Commuters May Increase As 405 Clogs Further – Caltrans Plans To Study Reduced Speed Limits, And Narrower Lanes To Slow Traffic On PCH – MRCA May Be Winning Battle For Control Of Key Malibu Land
Written by 991KBU on November 13, 2023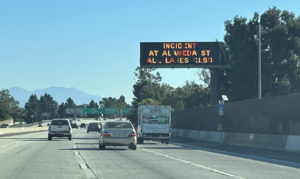 =. Malibu will see traffic changes due to the loss of the 10 Freeway near Downtown L-A.
=. The governor says Caltrans lawyers had been in court trying to evict the guy storing wooden pallets under the freeway.
=. Gavin Newsom says he personally assisted trying to relocate homeless persons camping under that stretch of freeway.
= How is Caltrans reacting to the deaths of four strudewnts on PCH?   More studies.
=. Another radar study to slow the speed limit … another study on how to help pedestrians and bicyclists.
=. The MRCA may be winning the race with the city to buy four pieces of land in Malibu. 
Malibu Already Feeling Small Effects From 10 Fire Destruction In Downtown LA
The 101 Freeway has been nearly completely destroyed near downtown Los Angeles … and this is already affecting Malibu.
Dozens of bridge support columns are visibly damaged.
400 feet of 12-lane-wide bridge deck … a giant  question mark.
In Malibu … some minor Caltrans construction projects scheduled this week have been cancelled.
How could this happen???
Ho would hundred of wooden pallets be stacked up .. a waiting fire trap … next to a homeless campo where people start fires almost every night??? 
Governor Gavin Newsom.
NEWSCART 74694 GOV CLEANUP 
I am intimately familiar with the site. Some of you may know that as well, because you were with us when we did a large scale enforcement action and cleanup right on this site in August of last year.

"I personally participated in that was not a press conference we were there actually doing the work of cleaning up the site."
But the wooden pallets were still stacked up for years .. providing an oven like box to superheat the freeway … once they inevitably caught fire.
The governor says the Caltrans attorneys were already in court … trying to get rid of those. 
NEWSCART A74695 GOV LEASE 
"I am mindful of those broader concerns around  who is leasing these sites and are they being monitored? 

"Are they being held accountable …  and the answer specifically on this site is yes.

"In fact … we are litigation with the leasee …  and in fact … our inspectors been out there on a consistent basis with citations.

"Their lease is expired, they are in arrears."
This will be the second major Southern California freeway closure in 13 months due to fire damage of freeway supports, after the state failed to clear brush growing next to wooden support walls on Interstate 5 north of Castaic last year. Bit the kindling wood has been stacked high under that bridge for years.
And homeless warming fires have blackened the sidewalks there for years as well.
It's the worst freeway disruption since 1994 … when the 10 freeway collapsed at La Cienega Boulevard in the Northridge earthquake. 
That took three months to fix.
Reconstruction is already underway this morning.
Toks Omishakin .. the state Secretary of Transportation. 
NEWSCART A74693 CT ENGINEER 
"Structural engineers will begin more detailed work immediately. 

"I want to emphasize that our efforts on this are going to have to be 24/7 to get this roadway back open, but I'm not gonna understate the challenge here: it is signifiant. :

"It is significant the number of columns (lost under) this bridge. 

"We're still going through all the impact to the columns …  to the deck of the bridge … so this is not going to be an easy task for structural engineers at Caltrans."
LA Mayor Karen Bass says there are three goals.
NEWSCART A74692 CT BASS 
"Number one … ensuring that there is a plan for Angelenos who commute or live by this incident.

"Number two … working to get the 10 freeway up and running again as fast as possible.

"Number three … providing as much information as possible ensure that our communities and commuters are well informed every step of the way."
Traffic heading to or from the westside to downtown … or even to Las Vegas … Palm Springs … San Bernardino … Orange County. … San Diego … will be snarled for weeks. 
If you buy groceries in Malibu .. this will affect you .. the freeway closure sits between Malibu and the grocery warehouses. 
Trucks will be diverted to the 405 … from Long Beach to Northridge … there 405 will era backed up more than usual.
And that will divert extra traffic onto PCH in Malibu. 
It may take a couple of days for that to develop. 
But it happened in 1994 … when the Northridge Quake closed the 10. 
This is likely the worst human-caused freeway disaster in LA history.
Caltrans Plans To Study Reduced Speed Limits, And Narrower Lanes To Slow Traffic On PCH
The PCH Safety Task Force meets tomorrow at City Hall. 
Caltrans officials had promised to appear … to talk about how to move forward with PCH safety projects.
it's not a public hearing … but it is a working group that has met infrequently over the past 20 years.
Caltrans … the city … the sheriff's office … the city of LA … the city of Santa Monica … even Ventura County officials have been part of the PCH safety task force over the years.
Given the disaster in Los Angeles … it's not clear if Caltrans will be able to send people on Tuesday. 
In a statement mailed to KBUU last week … Caltrans officials made their first comments about the deaths of four Pepperdine students.
Cakltrans official Lauren Wonder expressed condolences to the victims families.
And she said the state will be trying to Lower the speed limit.
NEWSCART A74691 WONDER 3333
Caltrans has to perform speed zone surveys to calculate the 85th percentile speed … 85% of drivers are traveling. This will be scheduled in the next six months.
That's not the law.
In her statement … the Caltrans spokeswoman glossed over the recent law changes … 
The state is in fact able to set the speed limit below the 85th percentile speed of traffic in especially-hazardous places. 
But Caltrans is lumbering into action … studying speeds .. and yet again … studying bike lanes and sidewalks.
NEWSCART A74690 WONDER VULNERABLE 
"One of the objectives of the study is to identify opportunities to create or enhance complete streets features, such as protected bike lanes, signage, or protections for pedestrians.   This is aimed to improve safety and mobility for all users of the route – especially vulnerable road users such as bicyclists and pedestrians."
The state spokeswoman tells KBUU that narrowing lanes may not work.
She says vehicles traveling at the current speeds would have difficulties negotiating narrower travel lanes and staying within their designated lane. 
The state spokeswoman also tells KBUU that making the lanes any narrower can cause an increase of sideswipe motor vehicle collisions that could also lead to vehicles losing control and veering into the shoulders.
That of course is what happened a month ago when the four students were killed.
Again … the state comes to this discussion from the position of moving cars first and foremost.
Safety yes … but moving traffic first.
And the Caltrans official says Caltrans is in the process of conducting a traffic safety study for PCH between the cities of Santa Monica and Oxnard. 
But there already is a traffic safety study from 8 years ago … and Caltrans has already decided not to implement its recommendations to slow traffic. .. narrow lanes … and give pedestrians a place to walk.
Lauren Wonder tells KBUU that the state study will also look to incorporate "complete streets" elements in a possible new design for PCH.
That's important.
Complete streets is Caltrans speak for paying attention to pedestrian and bicyclist needs… Not just motorized vehicles. And for slowing traffic down.
MRCA May Be Winning Battle For Control Of Key Malibu Land
It appears that the MRCA is winning a footrace with the city of Malibu to buy several chunks of open space with city limits … or next to it. 
Lots of land … 429 acres of it … near Escondido Canyon … Latigo Canyon … and the Edge's mountaintop above Billionaires Beach.
Four big chunks of land are up for sale… and the state government has a big pot of money … bond money … to help a local agency buy them.
The California Wildlife Conservation Board is administering tens of millions of dollars for land acquisition across the state.
And the owners of the Malibu land … including U2 guitarist David The Edge Evans … want to sell.
The Edge lost a 14 year battle to build a series of houses on a ridge above Sweetwater Mesa … overlooking Billionaires Beach … and that is one of the pieces of land up for sale.
152 acres overlooking Malibu at Sweetwater.
Other sections of land include the old Archery Club fields on Latigo Canyon Road … 26 acres.
And several hundred acres on a cliff just above PCH … called Solstice Hill … a prominent hill just above Latigo Shores. 
That land connects Solstice Canyon to Escondido Canyon … and the director of the MRCA … Joe Edmiston … wants to assume control of that residential area from Solstice Canyon to Kanan Dume Road. 
A year ago … the Mountains Recreation and Conservation Authority asked the city to its endorse purchasing the land.
The city council went into closed door sessions … with the object of possibly making a counteroffer for the land … and possibly applying for the state grants to snatch the control of the land away from Edmiston and the MRCA.
Escondido Canyon homeowners say the MRCA has been bullying them.
MRCA has been imposing huge fines on them for refusing to open their connection of private driveways to the public …to access the park that MRCA has built without city permits up the canyon.
All of this is behind closed doors … we do not know exactly what is  happening.
And up on a Santa Monica Mountains Conservancy board agenda for next week is a proposal for that state agency to give a grant to the MRCA to buy all the land. 
How much??
The Santa Monica Conservancy only posts incomplete agendas … an apparent skirting of state law.
So we can't tell you… yet.
Is the city of Malibu out of the bidding war??
It looks like it. 
It appears that Joe Edmiston and his MRCA is about to use state money to swing the deal … for 429 acres of land … nearly all in the City of Malibu.
Sea Level Rise To Be Discussed At City Hall Tuesday and Thursday Afternoons
The impacts of ocean level rise in Malibu is a matter of huge discussion.
Tomorrow afternoon … the city will hold the first of two workshops .. to listen to the public's concerns and thoughts about ocean level rise. 
The workshop is from 3 to 5 tomorrow. 
LA County is conducting a similar study about what to do with its 18 public beaches … three of which are in Malibu.
How the city and county efforts will dovetail .. one of the dozens of unanswered questions.
Fort those unable to attend tomorrow's workshop … there is a questionnaire published on the city's website.
And there will be a second workshop … Thursday afternoon from 3 to 5. 
---